May 23 to May 26, 2013
The Schomberg Agricultural Society is incorporated pursuant to the Agricultural and Horticultural Organizations Act (Ontario), and reports to the Ontario Ministry of Agriculture, Food and Rural Affairs. The Society is also a registered charity pursuant to the Charities Act (Canada). The Society owns and maintains the Fairgrounds, which land was purchased in 1909. The Fairgrounds are open year round to the public, community and sports groups for their recreational enjoyment and is available for rental for private events.
The Schomberg Fair is probably a lot different than you're picturing… The Schomberg Fairgrounds aren't located out in the middle of a muddy field on the outskirts of town, quite the contrary actually… The Schomberg Fairgrounds are located right in the heart of downtown Schomberg. The grounds are separated from the Main Street by a gently flowing river that runs parallel to the road. There is an arena, rides, plenty of parking and genuine agricultural fairgrounds – all of which are surrounded by rolling hills and small town neighbourhoods. The Schomberg Fair is the heart of Schomberg! If you haven't been to the fair before, come see what you've been missing for the past 161 years… The Schomberg Fair – a great way to experience and support the agricultural community.
The Mandate of the Agricultural Society is to encourage an awareness of agriculture and to promote improvements in the quality of life of persons living in an agricultural community
We are 163 years old, 153 in the village of Schomberg.
Largest event in King Township
One of the best Heavy Horse Shows in Ontario next to the RWF: Our show is special in that the teams that win here earn points that allow them to enter the show in Madison Wisconsin for North American Champion.
A huge Beef Show & 4H Dairy Show
A large Homecraft show with entries from far and wide
Did You Know?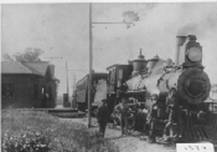 The Schomberg and Aurora Railway (S&AR, also nicknamed the "Annie Roonie") was a 36 km long railway running from the town of Schomberg to Oak Ridges, just south of Aurora. It connected Schomberg to the Toronto and York Radial Railway (T&YRR) tram service running along Yonge Street. With the introduction of the train, the Market in Schomberg and the annual Fair became much more popular. The service ran for 25 years between 1902 and 1927; the rails were pulled up shortly thereafter.