12th Annual Schomberg Farm Tour, Saturday March 12th, 2016. The Ultimate Way to Kick off March Break with the Family.
You're invited to the 12th Annual Schomberg Farm Tour, sponsored by the Schomberg Agricultural Society. Experience a truly unique and educational day out on the farm with your family, farm animals, tractors, crops, fresh air and open fields.
Date: Saturday March 12th, 2016.
Time: 10 AM – 3 PM
Location: Farms in the Schomberg Community (You will find out when you buy your ticket)
Transportation: The comfort of your own vehicle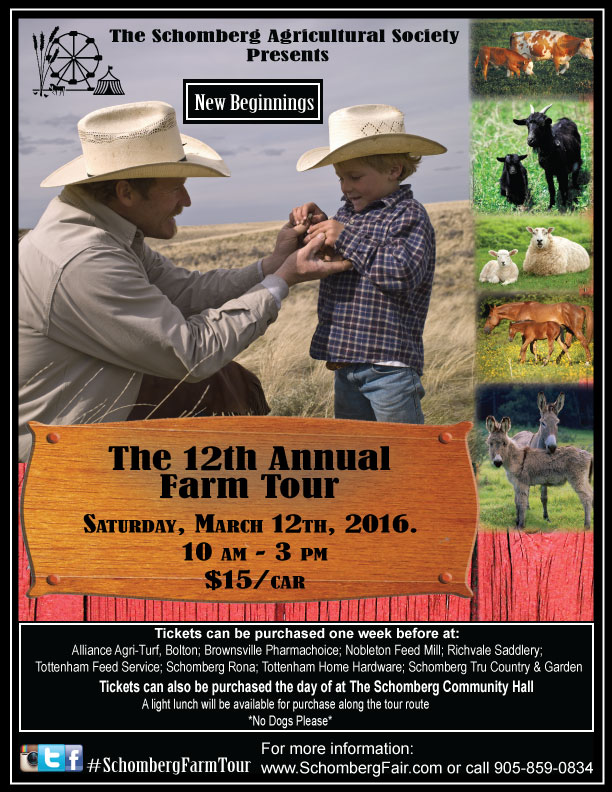 5 Steps for a successful tour: 
Step 1- Purchase a ticket from Saturday March 5th to Saturday March 12th at one of the following local retailers listed below for $15/car. The ticket has information about each stop on the tour, along with a map to guide you.
Step 2- Dress your family and yourself in warm clothing and rubber boots; you actually get to walk around on the farms!
Step 3- The tour is 'Drive Yourself'. Load your family into your car (no dogs please) and head to the farm on the map that corresponds with the colour sticker on the front of your ticket. The tour runs from 10 AM to 3 PM. Make sure to give yourself enough time to visit the farms.
Step 4 – Respect the farms and animals you see. Ask questions and learn about the farms in our community.
Step 5 – Take photos and upload them to Facebook, Instagram and Twitter using #SchombergFarmTour and you will be entered in a draw to win free passes to our 166th Annual Schomberg Agricultural Fair.
Tickets available starting Saturday March 5th at:
Richvale Saddlery
Brownsville PharmaChoice Drugs
Alliance Agri-Turf Bolton
For more information please contact Janet Orr at 905-859-0834 or follow us and join the conversation on Facebook, Instagram or Twitter.
#SchombergFarmTour