Welcome to the 2010 Schomberg Fair!
Rural Roots 160 Years Deep
The Fair originated as the King Township Fair, moving about the Township from Aurora, King Village, Laskay, Kettleby, Nobleton and Brownsville (now Schomberg).
In 1872 the Fair was permanently moved to Schomberg as a Fall Fair, held on Thanksgiving weekend. It was not until 1957 that it became the Spring Fair we recognize today.
On November 1st, 1909 approximately 10 acres of land was obtained from Caleb and Martha Brown for the sum of $1550 for use by the annual Fair.
From 1920 until 1978 Harness races were held during the Fair weekend.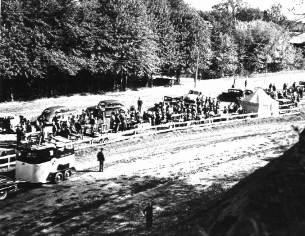 The Fairgrounds early Fifties
In 1961 the Ministry of Agriculture let the S.A.S. use half of their lifetime grant to build an Arena. Ruth Wray and family deeded the land to King Township at no cost. In 1965 the Homecraft section moved from the Town Hall to the Arena.
The Clubhouse was built on the fairgrounds in 1964. It was to be used by young peoples' organizations such as the Scouts, Cubs and Guides.
See the Rural Roots page to learn even more about the Schomberg community and the Agricultural Society's great history.