Foxbury Farm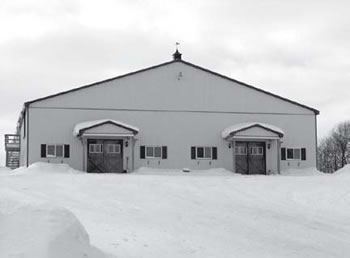 Paige and Gord Munro
1 – 1148 10th Sideroad, Tottenham
North of Highway 9
It is our pleasure to have you tour our equestrian property. Foxbury Farm Ltd. offers year round indoor/outdoor beginner to advanced riding lessons (age five and up) as well as summer and winter camps at our modern facility. Our services also include: sales, purchase and leasing of hunter and jumper horses and ponies, full custom board and training in addition to coaching for National level competitions in North America. Turning out numerous Championship horses, ponies and riders each year, our individualized and positive atmosphere with an enthusiastic approach to the sport has helped create a close-knit supportive community at Foxbury.
---
Baker Ridge Farm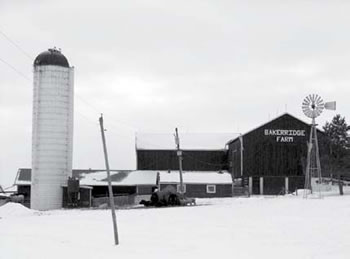 Dan, Karen, Karlynn, Morgan and Zack Baker
2 – 1638 Highway 27, Schomberg
North of Highway 9
Baker Ridge Farm is known for the Christmas light display and the variety of animals in the front field. They have a sheep flock of approximately 150 ewes along with the many new born lambs. The 85 head of beef cattle come in many different colours and breeds. There also are goats, llamas and horses. From the big black percherons to the small miniature horses. Dan and Karen also cash crop 1200 acres of wheat, corn, soybeans and hay along with 600 acres of custom work. When not in the field or barn the family can be found at the hockey arena with Zack, the pool with Karlynn or the many 4-H events that Morgan attends.
---
Windy Hill Farm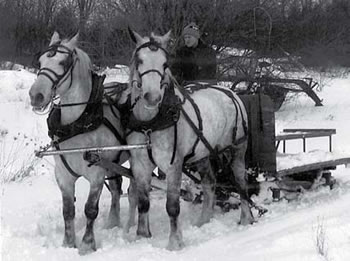 The Barron Family
3 – 17260 Keele St., Kettleby
South of Highway 9
Windy Hill Farm raises Registered Percheron horses, beef cattle and crops. The Percheron horse is a draft horse that originated in France. We show the horses from May to November at local fairs, the Canadian National Exhibition (CNE) and the Royal Winter Fair, both in Toronto. We also use our horses for wagon and sleigh rides, parades and wedding events.We try to work with them on the farm, but most of the time we come up short on time so the tractor is used more then the horses. They are also used at a Christmas tree farm every year to give rides. They are very gently, patient horses with lots to give. They are starting to be well known as a wonderful riding horse. Hope you enjoy your time at Windy Hill Farm!
---
Holland Marsh Wineries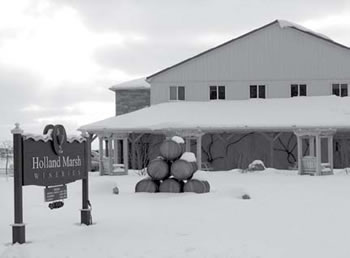 4 – 18270 Keele St., Newmarket
North of Highway 9
Nestled peacefully in the Holland river valley, our 22 acre estate boasts outstanding wines and a friendly, professional atmosphere. Holland Marsh Wineries strives to harmonically infuse the tradition of European winemaking with the finest quality of grapes grown right in the Marsh itself. The unique composure of the soil in the Marsh gives the grapes an unparalleled distinction from that of any other Ontario location. Roland Nersisyan, president and owner of Holland Marsh Wineries, was born and raised in eastern European tradition, where wine is a cultural symbol and appreciated as such. Starting with his grandfather, the process of making and enjoying fine wine has been passed down for three generations. It has been a collaborative effort between Roland and his team to bring the highest quality of wines and service to every person who walks through the doors. At Holland Marsh Wineries, the top priority is making every single bottle of wine the best in quality and taste. What's more, we are committed to operating our business in an "earth friendly" manner. Our vines are carefully handpicked from our vineyards, which produce all natural grapes & use practices that are not harmful to the soil, water or people in our surrounding area.
---
Bajar Greenhouses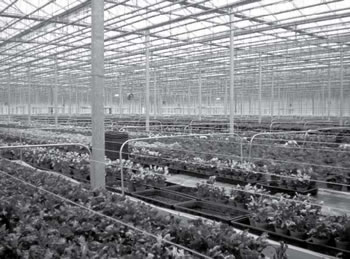 5 – 18545 Keele St., Newmarket
North of Highway 9
Founded in 1973 by owner Tony Bajar, Bajar Greenhouses is an established producer of ornamental plants, providing high quality potted plants as well as annuals to retail and wholesale florists. Adding major expansions twice – in 1982 and in 1998 – our 120,000 square foot operation is now better able to meet the demands of the ornamental floral industry. We are one of the few nurseries in the area that specializes in Reiger Begonias and Zygocactus (Christmas cactus). We also provide a wide variety of seasonal products including annuals, perennials and hanging baskets with oxalis in the spring and poinsettias at Christmas. A family-run business, Bajar Greenhouses is dedicated to continue producing flowers of high quality that our customers have come to expect from us.